Easy Hanzi 3.5 for Windows 10/7/Vista/XP
An easy-to-use flashcard and dictionary software to learn Chinese. It is available for Windows 10/7/Vista/XP and macOS.
Select a different operating system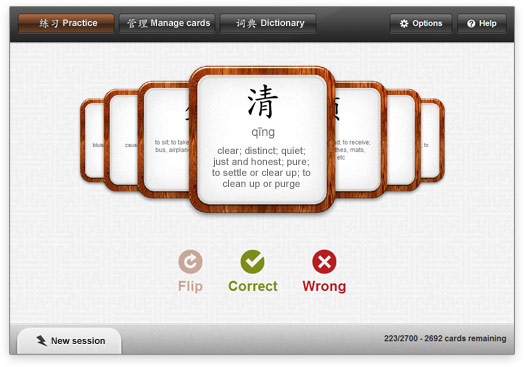 Download the basic version of Easy Hanzi
The basic version of Easy Hanzi is 100% free with no limitations. It includes the basic features needed to study, including the spaced-repetition algorithm, built-in flashcards, the possibility to create and import flashcards, etc.
More advanced features, such as the dictionary or character stroke animations however are only available in the full-featured version. See the feature comparison table for more information.
Download additional flashcards
New Practical Chinese Reader

Published by the Chinese Department of Culture, New Practical Chinese is one of the most frequently used book in Mandarin classes. The flashcards cover book 1, 2, 3, 4 and 5 of the new edition.

Integrated Chinese, 2nd Edition

Integrated Chinese, 3rd Edition

Practical Chinese Reader

Now superseded by the New Practical Chinese but still in use in some schools.

HSK

The complete set of flashcards of the new Hanyu Shuiping Kaoshi (HSK).

Common Chinese Characters

The 2700 most common Chinese characters divided into 4 decks.

Chinese Character Radicals

List of the 214 Kangxi radicals ordered by number of strokes.
Credits: The HSK, NPCR and Integrated Chinese 2nd and 3rd edition flashcards are adapted from those at HSK flashcards. PCR books 1 and 2 are released by Matti Tukiainen under the terms of the GPL.